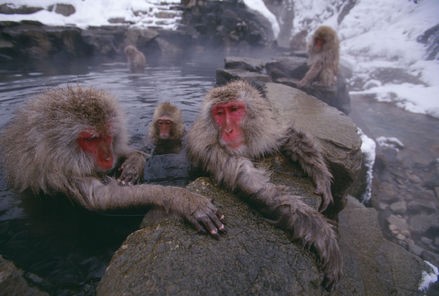 Welcome to Japan! The dynamic capital city of Tokyo is home to more than 8 million people. Tokyo delivers a seemingly unlimited choice for shopping, entertainment, culture and dining options to visitors each year.   Head south along the coast to Kamakura to see the 750-year old Great Buddha.
See Mt Fuji via a cable car ride with the most spectacular panoramic views.  Next, travel through the ruggedly beautiful Japanese Alps to the quiet isolated town of Takayama, and see old traditions that are untouched by the passage of time. Make your way to Kyoto and visit the famous geisha district. If luck is on your side, you may even see a geisha or a geisha-in-training, called a maiko.  Experience traditional Japanese hospitality with an overnight stay at a local ryokan, (a traditional Japanese inn).
Visiting Japan, December through March? We suggest a stop at Jigokudani Yaen-Koen Monkey Park in Nagano, and fall in love with nature watching the precious Snow Monkeys unwind at the hot springs! Bound to be the cutest display of wildlife you've ever seen! Enjoy the monkeys with their humorous and adoring behavior.
Yes, you can also relax in a hot bath in the hot springs of famous Yudanaka Onsen. There are about 2,200 liters of water the hot springs produce each minute, continually replenishing the baths with fresh water, which is never reused.
Along with enjoying and relaxing in the beautiful nature of the hot springs, also take in the breathtaking Zenko-ji Temple founded over 1,400 years ago, a true national treasure.
We look forward to helping you on your journey!